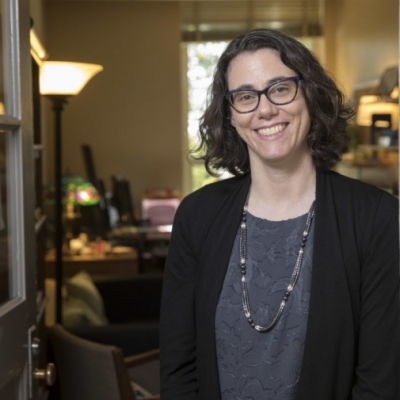 Associate Professor
Undergraduate Coordinator
Contact Info
217A Baldwin Hall
Office Hours:
https://sarahshannon.youcanbook.me
Sarah K.S. Shannon joined the UGA Sociology Department in 2013 after receiving her PhD (and MSW) from the University of Minnesota.  Sarah studies law, crime, and deviance, with a focus on systems of punishment and their effects on social life. Her interdisciplinary research has been published in top journals in several fields including sociology, criminology, public health, social work, and geography.
Sarah is also an award-winning teacher, having received UGA's prestigious Richard B. Russell Excellence in Undergraduate Teaching award, the UGA Creative Teaching Award, the UGA Student Government Association's Outstanding Professor Award, the Franklin College of Arts and Sciences' Sandy Beaver Award for Excellence in Teaching award, as well as the CURO Research Mentoring Award and the Service Learning Teaching Excellence Award. Sarah teaches UGA's only "Inside-Out Prison Exchange Program" course (SOCI 4470S).
As a publicly engaged scholar, Sarah's research has been cited in several high profile media outlets including The New York Times, The Economist,  and the Washington Post. Prior to her graduate work, Sarah worked in the non-profit sector. As a result, she cares about doing research that matters for academics, policy makers, and ordinary citizens.
Education:
PhD, Sociology, University of Minnesota, 2013
MSW, University of Minnesota, 2007
BA, Sociology, University of Iowa
Of Note:
Research Funding
Co-Principal Investigator, Rural Jails Research Hub, 2020-2021. Funded by the Vera Institute of Justice. $235,000.
Co-Principal Investigator, Multi-State Study of Monetary Sanctions. 2015-2020. Funded by the Laura and John Anold Foundation (via University of Washington, PI Alexes Harris). $237,646.
Principal Investigator, RIDGE Center for Targeted Studies Grant. 2014-2015. "The Longitudinal Impact of SNAP Enrollment and Spending on Community Health and Well-being in Rural and Urban Georgia During the Great Recession."  Purdue Center for Regional Development & the Southern Rural Development Center. $33,136.
Teaching Accomplishments
Research
Selected Publications

Selected Publications:

Martin, Brittany and Sarah K.S. Shannon. Forthcoming. "State Variation in the Drug Felony Lifetime Ban On TANF: Why the Modified Ban Matters." Punishment & Society.
Shannon, Sarah K.S., Grace Bagwell Adams, Gerald Shannon, Jung Sun Lee. 2018. "How Increases in Benefit Levels Affected SNAP Enrollment by Race, Ethnicity, and Metropolitan Status of Georgia Counties during the Great Recession." Journal of Environmental Health and Nutrition. DOI: 10.1080/19320248.2018.1465002
Shannon, Jerry, Grace Bagwell-Adams,  Sarah K.S. Shannon, Jung Sun Lee, 

and 

Yangjiaxin Wei. 2018. "

The mobility of food retailers: How proximity to SNAP authorized retailers changed in Atlanta during the Great Recession.

" 

Social Science & Medicine

 209: 125-135.

Martin, Karin, Bryan Sykes, Sarah Shannon, Frank Edwards, and Alexes Harris.  2018. "Monetary Sanctions: Legal Financial Obligations in the Criminal Justice System." Annual Review of Criminology 1(1):471-495.
Gordon Simons, Leslie, Tara E. Sutton, Sarah Shannon, Mark T. Berg, Frederick X. Gibbons. 2018. "The Cost of Being Cool: How Adolescent Pseudomature Behaviors Map onto Adult Adjustment." Journal of Youth and Adolescence 45(5):1007-102. 
​Shannon, Jerry, Mathew Hauer, Alexis Weaver, and Sarah Shannon. 2018. "The Suburbanization of Food Insecurity: An Analysis of Projected Trends in the Atlanta Metropolitan Area." Forthcoming at The Professional Geographer 70(1):84-93.
Shannon, Sarah K.S. 2017. "Punishment, Religion, and the Shrinking Welfare State for the Very Poor in the United States, 1970-2010." Socius 3:1-16.
Sarah K.S. Shannon, Christopher Uggen, Jason Schnittker, Melissa Thompson, Sara Wakefield, and Michael Massoglia. 2017. "The Growth, Scope, and Spatial Distribution of People with Felony Records in the United States,1948 to 2010." Demography 54(5):1795-1818.
Sarah K.S. Shannon and Mathew Hauer. 2017. "A Life Table Approach to Estimating Disproportionate Minority Contact in the Juvenile Justice System." Justice Quarterly 35(2):330-355.
Jerry Shannon, Sarah K.S. Shannon, Grace Bagwell-Adams, and Jung Sun Lee. 2016. "Growth In SNAP Retailers WasAssociated With Increased Client Enrollment In Georgia During The Great Recession." Health Affairs 35(11): 2100-2108. 
Schnittker, Jason, Christopher Uggen, Sarah K.S. Shannon, and Suzy Maves McElrath. 2015. "The Institutional Effects of Incarceration: Spillovers from Criminal Justice to Health Care." Millbank Quarterly 93:516-560.
Sarah K.S. Shannon and Joshua Page. 2014. "Bureaucrats on the Cell Block: Prison Officers' Perceptions of Work Environment and Attitudes Toward Prisoners." Social Service Review 88:630-657.
Uggen, Christopher and Sarah K.S. Shannon. 2014. "Productive Addicts and Harm Reduction: How Work Reduces Crime - But Not Drug Use." Social Problems 61:105-130. 
Uggen, Christopher, Sarah Shannon, and Jeff Manza. 2012. "State-Level Estimates of Felon Disenfranchisement in the United States, 2010." Washington, DC: The Sentencing Project.
Nyseth, Hollie, Sarah Shannon, Kia Heise and Suzy McElrath. 2011. "Embedded Sociologists." Contexts 10:44-50. 
Shannon, Sarah K.S. 2010. "Dereliction of Duty: Training Schools for Delinquent Parents inthe 1940s." Journal of Sociology and Social Welfare 37:11-27. 
Abrams, Laura.S., Sarah K.S. Shannon, and Cindy Sangalang. 2008. "Transition Services for Incarcerated Youth: A Mixed-Methods Evaluation Study." Child and Youth Services Review 30:522-535.
Shannon, Sarah K.S. & Laura Abrams. 2007. "Juvenile Offenders as Fathers: Perceptions of Fatherhood, Crime and Becoming and Adult." Families in Society 88:183-191.