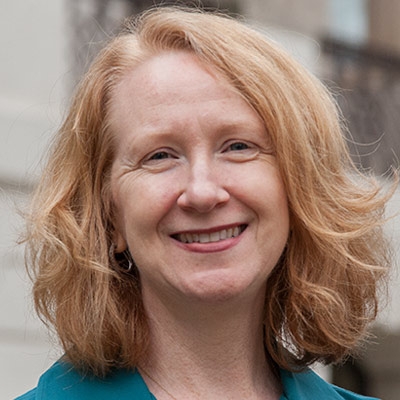 Contact Info
309 and 113C Baldwin Hall
Dr. Jody Clay-Warner, Meigs Professor of Sociology (view Dr. Clay-Warner's Meigs video), has been at the University of Georgia since 1998. She received a Ph.D. in Sociology from Emory University, and her specialty areas include social psychology, criminology, and gender. 
The overarching goal of her research is to understand responses to injustice. She considers this issue from both a basic and applied perspective.  Specifically, she examines the underlying processes that guide responses to injustice, as well as the implications of these processes for reactions to concrete forms of injustice, such as criminal victimization. She employs experimental and survey methods to investigate these issues, and her research has been funded by the National Science Foundation. Her current projects focus on sexual revictimization, campus sexual assault policies, and responses to advantageous injustice (getting more than you deserve).
Dr. Clay-Warner is the co-director of the Laboratory for the Study of Social Interaction (LASSI) and the co-Director of the Violence Work Group in the Owens Institute for Behavioral Research.  Her courses include Experimental Methods in Sociology (SOCI 4930/6930); Gender, Crime, and Justice (SOCI 8840); Theories of Social Psychology (SOCI 8730); and Crime in Global Context (SOCI 4590), which she teaches as part of the Liverpool Study Abroad Program. 
Education:
Ph.D., Sociology, Emory University, 1997
M.A., Psychology, Georgia State University, 1992
B.A., Speech Communication, University of North Carolina, Chapel Hill, 1990
Of Note:
2017. Owens Creative Research Award for Distinguished Contributions to the Social and Behavioral Sciences, University of Georgia
2014. Outstanding Graduate Student Mentoring Award, UGA Graduate School
2013. American Society of Criminology Teacher of the Year Award
2011.  Josiah Meigs Distinguished Teaching Professorship
2010.  Outstanding Recent Contribution Award, ASA Sociology of Emotion section
2010 - 2012.  "Collaborative Research Examining Emotional Reactions to Favorable Violations of Standards of Justice" (PI), with Dawn T. Robinson (co-PI) and Lynn Smith-Lovin (co-PI).  National Science Foundation SES 0966536.  $160,596
2008 - 2011. "DHB Testing a Dynamic Theory of Social Emotion Using Infrared Imagery."  (co-PI), with Dawn T. Robinson (PI), Chi Thai, and Kevin McCully (co-PIs).  National Science Foundation BCS 0729396.  $717,375
2005 - 2008. "Collaborative Research Examining the Relationship between Identity, Injustice, and Emotion," (co-PI) with Dawn Robinson (PI) and Lynn Smith-Lovin. National Science Foundation #0519969.  $283,218.
2004. Richard B. Russell Undergraduate Teaching Award, University of Georgia
2003. CURO Excellence in Undergraduate Research Mentoring Award, University of Georgia
2002. Special Sandy Beaver Excellence in Teaching Award, University of Georgia, College of Arts and Sciences
Research
Selected Publications

Selected Publications:

Boyle, Kaitlin M., Ashley Barr, and Jody Clay-Warner. Forthcoming, 2017. "The Effects of Feminist Mobilization and Women's Status on Universities' Reporting of Rape." Journal of School Violence, vol. 16.
Walklate, Sandra and Jody Clay-Warner. 2017. "Victimization and Revictimization," Pp. 270 – 288 in The Oxford Handbook of Sex Offences and Sex Offenders, edited by Brian Francis and Teela Sanders. Oxford University Press
Clay-Warner, Jody, Dawn T. Robinson, Lynn Smith-Lovin, Kimberly B. Rogers, Katie R. James.  2016. Justice Standard Determines Emotional Response to Over-Reward."  Social Psychology Quarterly 79:44-67.
Clay-Warner, Jody, Jackson Bunch, and Jennifer McMahon-Howard.  2016. "Differential Vulnerability: Disentangling the Effects of State Dependence and Population Heterogeneity on Repeat Victimization." Criminal Justice and Behavior 43: 1406-1429
Clay-Warner, Jody and Dawn T. Robinson. 2015. "Infrared Thermography as a Measure of Emotion Response." Emotion Review 7:157-162.
Clay-Warner, Jody. 2014. "Emotions and Crime," pp., 473-493 in Handbook of the Sociology of Emotions (vol.2), edited by Jan E. Stets and Jonathan H. Turner. New York: Springer.