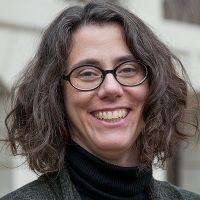 Sarah K.S. Shannon joined the UGA Sociology Department as an Assistant Professor in 2013 after receiving her PhD (and MSW) from the University of Minnesota.  Sarah is an active scholar who studies law, crime, and deviance, especially the intersections between crime, punishment, and public welfare programs. Her interdisciplinary research investigates how social institutions like the criminal justice and public welfare systems affect social inequality. Sarah's work has been published in top journals in several fields including sociology, criminology, public health, social work, and geography. Sarah is an affiliate faculty member with the Criminal Justice Studies Program and the Institute for Women's Studies at UGA. She is also an award-winning teacher, receiving the Franklin College of Arts and Sciences' prestigious Sandy Beaver Award for Excellence in Teaching in 2017.
Current projects include the Multi-State Study of Monetary Sanctions funded by the Laura and John Arnold Foundation investigating how criminal justice debt impacts low-income people. Ongoing research projects include estimating the number of people convicted of felonies in the United States, community reentry across multiple institutional populations (prison, military, foster care, and others), and the impacts of increased enrollment in the Supplemental Nutrition Assistance Program (SNAP) during the Great Recession. 
As a publicly engaged scholar, Sarah's research has been cited in several high profile media outlets including The New York Times, The Economist,  and the Washington Post. Prior to her graduate work, Sarah worked in the non-profit sector with various at-risk populations. As a result, she cares about doing research that matters for academics, policy makers, and ordinary citizens. Her public engagement projects include The Society Pages and The Scholars Strategy Network. Off campus, Sarah is a proud mother and a hockey player.